CNU News
---
California Northstate University College of Medicine Announces 97% Match Rate in National Resident Matching Program
March 20, 2023
ELK GROVE, CA – California Northstate University (CNU) is excited to announce that the College of Medicine Class of 2023 students have attained a 97% match rate in the 2023 National Resident Matching Program. CNU College of Medicine students have matched in several very competitive specialties including but not limited to Diagnostic Radiology, Orthopedic Surgery, Ophthalmology, Otolaryngology, and Plastic Surgery while fulfilling its mission of educating medical students who wish to practice internal medicine, OB/GYN, family medicine, and pediatrics.
---
California Northstate University College of Health Sciences Now Accepting Applications for 2023-2024 School Year
December 1, 2022
RANCHO CORDOVA, CA – CNUCHS is home to a uniquely designed bachelor's degree in Health Sciences. This pre-health program offers a curriculum that focuses on STEM foundation study, which is critical to pursuing the advanced learning for students wishing to become physicians, dentists, pharmacists, clinical psychologists, or other healthcare professionals. CNUCHS will welcome and consider applications from high school seniors and transfer students from other community colleges or universities.
---
California Northstate University College of Pharmacy Ranked #6
August 5, 2022
ELK GROVE, CA – California Northstate University College of Pharmacy has been ranked #6 among all fourteen pharmacy schools in California based on current American Association of Colleges of Pharmacy (AACP) rankings for NIH research funding. Out of 143 pharmacy schools in the U.S., California Northstate University College of Pharmacy is now ranked #73 after being ranked #103 last year...
---
California Northstate University to offer Covid-19 vaccination and flu clinic at Salam Islamic Center on March 4th
March 3, 2022
California Northstate University (CNU) will offer a COVID-19 vaccination and flu clinic on Friday, March 4th from 1p.m. to 5p.m. at the Salam Islamic Center.
In partnership with the California Department of Public Health & Health Net, the vaccination and flu clinic will offer COVID-19 vaccines and flu shots to adults and children ages 5 and older. Interpretation services will be provided in Arabic, Dari/Farsi, Pashto, and Urdu.
---
February 16, 2022
ELK GROVE, CA – California Northstate University (CNU) is proud to announce that it has received final approval on its proposed North Natomas Medical Center Campus by the Sacramento City Council during last night's meeting.
CNU's proposed Medical Center Campus at Innovation Park is a new development project headed by the Sacramento Kings organization that will transform 35 acres of the 170-acre former Sleep Train Arena in North Natomas into a vibrant mix of residential, commercial, health and educational uses.
---
June 18, 2021
SACRAMENTO (sacbee.com) – New use for Sacramento's Sleep Train Arena site revealed: 'A hub of innovation'
The Sacramento Kings and a local medical group announced Wednesday they have reached a deal to build a hospital and medical complex on the former Sleep Train Arena site in North Natomas.
Kings officials said they will turn over 35 acres of land, including the arena, to the locally based California Northstate University group to construct a major teaching hospital, trauma center and medical school that could bring up to 3,000 jobs as well as housing to the now unused site.
The level 2 trauma center would be 10 to 11 stories tall, and would start with 250 rooms, ultimately expanding to 400, officials said. It would include a helipad. The initial phase of the project could be built in about three and one-half years, university officials said. [Read More]
---
May 17, 2021
SACRAMENTO (CBS13) – Graduation didn't look the same at the Golden 1 Center, but California Northstate University graduates wouldn't have missed their big day for anything.
"I am really excited to be here with everyone and to be able to celebrate all of our accomplishments and achievements together," said graduate Olivia Wu. [Read More]
---
May 11, 2021
This APA designation recognizes CNU's 5-year Psy.D. degree as a nationally accredited psychology program that provides students the professional and scientific skills to treat diverse and complex mental health populations... [Read More]
---
March, 2021
CNU COM students have matched in very competitive specialties such as Orthopedic Surgery, Dermatology, Urology, Ophthalmology, Diagnostic Radiology, Otolaryngology and surgery.
Many of our students have matched in well-known and very highly regarded residency programs... [Read More]
---
February 16, 2021
ELK GROVE, Calif. (KTXL) — More than 400 employees within the Elk Grove Unified School District answered the call to get their COVID-19 vaccines Tuesday night at California Northstate University.
So far, around 1,350 teachers and staff members have registered to get their shots, not only to better protect themselves but also their students once they fully get back to in-person learning.... [Read More]
---
January 12, 2021
California Northstate University [CNU] announced its Elk Grove campus has been designated as one of the primary sites for COVID-19 vaccination for the public in the Sacramento region. The clinic will open to the public through appointment if you fall into Phase 1A on Jan. 15...
...selected because "its pharmacy students and interns are trained and certified to administer vaccines. It also has ultra-low temperature storage freezers required to preserve the Pfizer-BioNTech vaccine safely before use."... [Read More]
---
...COP students provided flu vaccinations for 19 people living in the unsheltered community and talked with over 50 people, answering any questions they had about flu immunizations and other health concerns. This was an amazing learning opportunity for the students, who were humbled to learn more about the unique challenges this vulnerable population experiences on a daily basis... [Read More]
---
December 6, 2020
Medical school deans around the nation are seeing what they are calling the "Fauci Effect," as the number of applications at their medical schools have skyrocketed to unprecedented levels, according to the Association of American Medical Colleges...
...Dr. Joseph Silva, dean of the medical school at California Northstate, has known Fauci since they were both fellows in the study of infectious diseases in 1969, back before it was a subspecialty...[Read More]
---
November 23, 2020
…California Northstate University (CNU) announced that it has established the President Academic and Diversity Scholarship, in a partnership between the CNU President's Office and Duruisseau Foundation, a nonprofit established by Dr. Shelton Duruisseau, CEO of Quantum Care Place, Inc., a senior care and housing company, and former Vice President for Diversity & Community Engagement at the UC Davis Health System... [Read More]
---
October 6, 2020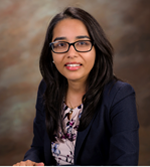 …Dr. Arpita K Vyas, MD, Associate Professor of Pediatric Endocrinology and Assistant Dean for Research at the College of Medicine, has received a four-year, $2.5-million grant from the National Institutes of Health (NIH) and National Heart Lung and Blood Institute.
As principal investigator, Dr. Vyas will lead and establish multi-institutional cardiovascular research studies with three collaborating universities–the University of Michigan, Michigan State University, and the University of California, Davis. The R01 research project grant titled Gestational Hyperandrogenism in Cardiovascular Programming (2020-2024) will address the mechanisms underlying sex-specific cardiovascular dysfunction in the offspring, secondary to excess androgens exposure prenatally. The project will advance the field of prenatal programming of the cardiovascular system… [Read More]
---
July 29, 2020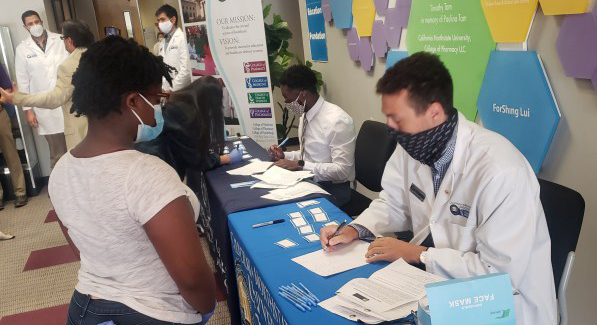 "Diversity and inclusion aren't just buzzwords for Elk Grove's California Northstate University (CNU) College of Medicine.
The four-year MD program whose mission is to "Advance the Art and Science of Medicine through Education, Service, Scholarship, and Social Accountability" put words into action this week as it kicked off its "Diversity in Medicine Camp." In partnership with Asian Pacific Islander American Public Affairs Association (APAPA) and tech giant Intel Corporation, the youth focused summer camp is CNU's most recent effort to bring more minorities into the field of healthcare…" [Read More]
---
May 8, 2020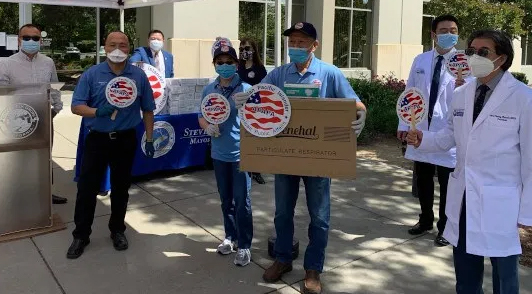 "…15,500 surgical masks, 100 goggles, 100 face shields, and gel sanitizers have been given to senior care facilities, the Elk Grove Food Bank, and Methodist Hospital of Sacramento. 7,500 of the masks are for senior care and residential facilities in Elk Grove, and 4,000 each will go to Methodist Hospital and Elk Grove Food Bank. The ceremony and pick up of the materials also observed social distancing practices…" [Read More]"